Greenpower
Greenpower Mission:
To change current views about engineering, presenting it as a fascinating, relevant and dynamic career choice for any young person.
To demonstrate the importance of engineering, and associated STEM subjects, to solve the problems faced by societies today particularly in the areas of sustainability.
To link education, industry and community through inspirational engineering projects.
To promote social inclusion through engaging with vulnerable and economically disadvantaged young people.
Greenpower is a national competition in which schools, colleges, universities and businesses design, build and compete in electric racing cars. One 24 v Fracmo DC electric motor and two 12 v Yuasa batteries provides the power and is standard for all race entries. The challenge is for individual teams to design all other features - chassis, wheels, steering, electronic management, braking, bodywork, telemetry etc. to ensure their car is the fastest. Races take place at circuits all over the country at legendary venues such as Goodwood and Castle Combe. The regulations are as strict as those in Formula 1 and safety is paramount.
Competing at Greenpower events is a logistically complex and expensive undertaking. A huge investment of time, effort and money goes into the design and build of a Greenpower car. Once built, cars must be tested and retested and finally made race ready. Once registered to race, team members must be clad and helmeted and Greenpower cars must be transported to events all over the country along with tools, spares, drivers, pit-crew, design portfolio, chairs, gazebos, insulated battery boxes, umbrellas, cameras, registration paperwork and refreshments. On arrival, there is a frantic jostling for position in the queue to pass inspection and be declared fit to put in a few practice laps before the real racing has even started…
We currently have two operational Greenpower teams:
Greenpower F24
The Greenpower F24 competition is open to students aged 11-16, although The Bourne Academy's current team consists almost entirely of Year 7 members. Students attend the Greenpower ACE club on Tuesdays and Thursdays and all work on the car is carried out by them.
The F24 team knows their vehicle inside out... and they need to - on race days no adults are permitted to assist in the pit lane should things go wrong – the F24 crew must all be experts! All cars are rigorously scrutinized before they are allowed to compete in the 90 minute races and team members are questioned beforehand to examine their engineering credentials.
The Bourne Academy F24 team hopes to race its as yet un-named car in the spring of 2018. A heavily modified version of the Bourne Beacon, it features an improved super-light chassis, direct belt drive (instead of the previously employed variable chain drive) and a brand new wiring loom featuring performance enhancing twin 12 volt cooling fans to ensure the motor runs as efficiently as possible.
Also new for 2018 are an improved wheel / axle configuration, an ergonomically superior steering set-up, and a newly designed roll-cage. Branding is an essential way of promoting the school's success and for the new season drivers will be strapped into a TRS rally-style 5-point harness and wear brand new driving gloves and race helmets – all in Bourne Academy pink!
The team hopes to be able to test the car in the grounds of The Canford School and anticipates a significant improvement on all previous Greenpower performances. Canford have generously offered assistance in transportation to race circuits. Their new F24 trailer will accommodate three Greenpower race cars and the Bourne academy team hope to be joining Canford at race venues very soon. It's been a while since The Bourne Academy F24 team made it to a Greenpower final – let 2018 be our year!
Greenpower F24+
F24+ is the branch of the Greenpower competition open to students between the ages of 16-25. The Bourne Academy "Blazing Bullet" is nearly race ready and only needs a group of willing KS5 students to take it on and get it racing. F24+ competition races last only 60 minutes allowing teams to squeeze more speed from their batteries before they expire. Though unlike their F24 cousins, F24+ cars are not entitled to a push start, instead having to pull away from the starting grid unassisted. The design of F24+ cars is accordingly complex and the "Blazing Bullet" rolls on four Brompton 16" full alloy wheels wearing narrow profile Schwalbe Kojak slick tyres. It features a motorbike style throttle linked to a variable speed controller enabling a "soft" start. To give it the edge, it also has an inverted derailleur chain drive system enabling the driver to select from five available gearing ratios once racing is underway. It is calculated that in optimal conditions the highest of these ratios will afford the "Blazing Bullet" a top speed in excess of 40mph. The F24+ car will also feature an all-new body. Rather than a rigid outer skin such as that of the aluminium-clad Bourne Bullet, the aerodynamic body-shell of the "Blazing Bullet" will be manufactured from a hi-tech heat shrinkable plastic membrane stretched over a ply frame. This super-light material is tough and lends itself to being formed into easily removable panels, making maintenance in the pit lane an efficient, speedy process.
The F24+ "Blazing Bullet" is a work in progress but it won't take much for a small group of engineering Sixth-form students bring it to life and get it to a race track!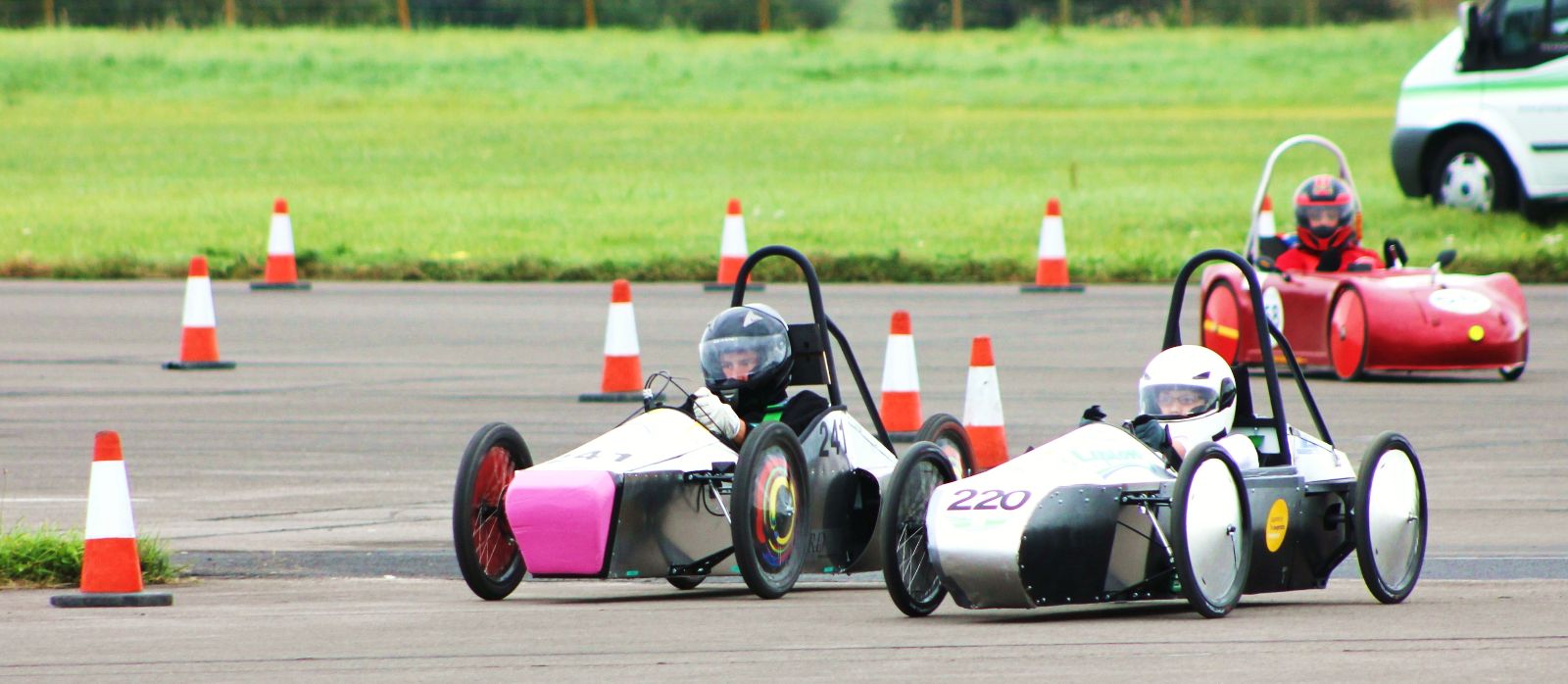 The Bourne Bullet (above) racing at Merryfield won Best Newcomer award. They went on to qualify for the finals at Goodwood.