The Bourne Academy Hosts BBC Radio 4's 'The Kitchen Cabinet'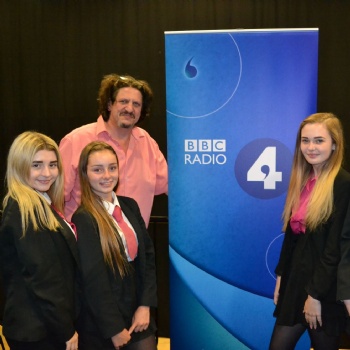 The Bourne Academy was chosen to host a group of celebrities visiting from BBC Radio 4 last night. Jay Rayner and the BBC came to Bournemouth to launch a new series of the popular panel programme 'The Kitchen Cabinet,' featuring experts Dr Annie Gray, specialist in the history of British food, Tim Hayward self-confessed food geek, Sophie Wright, a self-employed chef and food writer and Tim Anderson, Masterchef winner 2011.
The audience, who bagged tickets on the BBC website, were given the opportunity to put their food questions to the panel and they were delighted with the responses. There was a real emphasis on local food history and the evening included plenty of good-humored conversation about cooking and eating.
Students from the Bourne Academy Media and Food Departments were carefully selected to help on the evening – they were involved with set up, sound, cabling and wiring, food questions, audience participation, hosting the celebrities etc. They were extremely proud to have had that level of work experience with the BBC.
There was a fantastic lighthearted atmosphere and this was great opportunity to show case The Bourne Academy. Vicky Spence, Lettings Administrator for the Academy said 'It was a pleasure to be contacted by the agent for BBC Radio 4 The Kitchen Cabinet and to be able to help them secure a venue for the show.' The Bourne Academy offers state of the art facilities available for community lettings and private hire.
The show will air on Saturday 30th June at 10.30am and will be repeated on Tuesday 3rd July at 3pm.