Bagels For Breakfast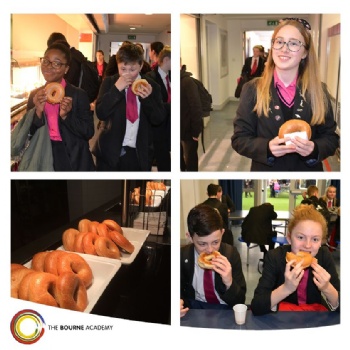 The Bourne Academy together with catering providers Innovate is delighted to announce that, following a recent fundraising bid, it have been selected to join in the National School Breakfast Programme. Funding for the programme comes from the Department for Education and is being delivered by a partnership of two charities: Family Action and Magic Breakfast.
The Academy has historically provided toast, orange juice and hot chocolate to our students on arrival each day. With the wonderful new funding, from today (Monday 18th March) drinks will remain the same, but the ordinary toast will be swapped for a bagel. This will not only allow a £9000 saving to the Academy over a year, but the bagel is a much healthier option compared to the original toast alternative; the bagels are from 'Bagel Nash' (a special recipe made using a mix of wholemeal and white flour, low fat, Vitamin D-enhanced, with no artificial additives).
In addition to the donation of bagels, the funding also included £500 for a chest freezer, which has now been installed, allocated to store the delivered produce. The Bourne Academy is absolutely delighted to the recipient of this funding.
Wellbeing Coordinator Alison Price highlights the importance of a balanced breakfast 'When children start off their day with a well-balanced breakfast it can improve mood, increase energy, enhance positive feelings and help clarity of thought!' The aim of National School Breakfast Programme is that 'no child is too hungry to learn'.