Joint Rona Trust Sailing Trip for Canford School and The Bourne Academy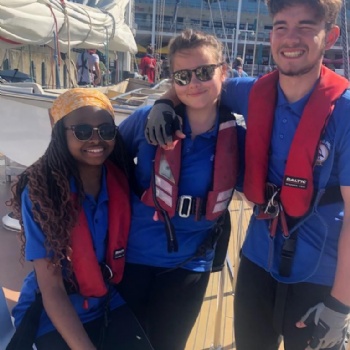 Students from The Bourne Academy joined students from sponsor, Canford school, to participate in a Sail Training Voyage (STV), with The Rona Sailing Project (RSP). The RSP is a volunteer based Sail Training organisation, using the sea as the medium for promoting youth development.
Three Bourne Academy students joined eight from Canford School for the weeklong trip to sail to various locations on the south coast including: Weymouth, Torquay and Gunwharf Quays in Portsmouth. They sailed a total of 285 nautical miles with a maximum wind force of 7.
All three students from The Bourne Academy were delighted to have received a Scott Award: completing a six night STV, and giving their personal best and proving themselves to be keen and reliable members of the crew. They all displayed hard work, dedication and teamwork, and also gained a RYA Competent Crew qualification.
Throughout the STV all students were active members of the crew, participating in all aspects of running the ship - from sail handing and rope work to navigation, helming and domestic duties on board. As part of their Competent Crew course, they also learned eight different knots, learned sailing terminology and practical sail setting. The students also prepared all food on the trip and they were responsible for keeping the ship clean and tidy.
Bourne Academy teacher, Sharon McCarthy, accompanied students on the trip and said 'It was a real pleasure. All students enthusiastically participated in all activities from sail setting and helming to cooking and cleaning. Some great friendships formed as The Bourne Academy and Canford students worked together in two watches sailing the ship an impressive 285 NM along the South Coast. It was great to see students show resilience and not shy away from things they found difficult and personally challenging'.
Students thoroughly enjoyed the project and have said that they cannot wait to go sailing again.