The Bourne Academy Reaches International Greenpower Finals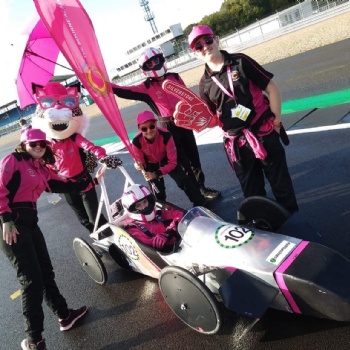 The Bourne Academy is delighted to announce that its Greenpower team, has qualified for the Greenpower International Finals at Silverstone. The F24 scratch built car called 'Bourne Bobcat' represents two years of special design, hard work and self-funding – it was built and welded from scratch in the Academy's engineering workshop.
Being in the finals is the furthest the team has ever got in these national championships and a proud testament to the efforts of the team where Engineering is one of the Academy's official specialisms.
This year marks the 20th anniversary of the Greenpower Education Trust, a UK based charity inspiring young people to excel in STEM subjects and careers in engineering. The Bourne Academy entered its first Greenpower event in 2012 with the support of the Canford team, the Academy's sponsor school. Canford School bought the first kit car, 'Bourne Bullet', for The Bourne Academy, kick-starting a fantastic opportunity for students.
Back in May, the team also came home with an award for the 'Best Presented Team'! Local company, Kingren Groundworks Limited, has proudly sponsored The Bourne Academy's Greenpower team, enabling them to purchase branded safety helmets, gloves and racing/pit suits in Academy colours.
Taking part in Greenpower has been an excellent experience for the aspiring engineering students, who attend a Greenpower Club weekly to work on the Academy's Greenpower car and help fund the works. TED Technician Mark Binstead, who runs the Greenpower Club at the Academy, says 'I am delighted and very proud that the team's hard work, perseverance and team spirit has resulted in their qualification in this hugely prestigious event.'
Not only has the recent success attracted further private donations from parents, but another local school has donated two additional chassis for the Academy to develop and use to expand the team. The Bourne Academy Greenpower team are looking forward to the international race at Silverstone on 17 October.