Academy Students Read 2 Million Words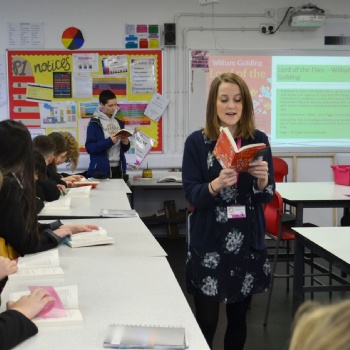 The Bourne Academy has launched a brand-new tutor time reading programme. Based on research by Doug Lemov and the Greenshaw Learning Trust, the decision was taken to introduce this fantastic initiative at the Academy.
The pilot for the programme was introduced in September, led by Portland House tutors, who have been reading aloud to their tutees for 15 minutes, three times a week. Students listened to the stories whilst carefully following the text with their reading rulers, which double as book marks.
The remaining Academy houses will be joining this programme throughout January, by which time, all students from Years 7 to 10 will be spending 45 minutes reading together each week. The books will be read by houses and swapped on a rotation basis.
The purposes of this programme are to expand student vocabulary, develop a life-long love of reading, support curriculum development and explore how literature has evolved in line with social and political change.
The texts chosen for this programme all offer a high value of 'cultural capital'; Animal Farm by George Orwell, A Christmas Carol by Charles Dickens, Face by Benjamin Zephaniah and a collection of Short Stories by authors including Graham Greene, Chaucer and D H Lawrence. Cultural capital is described by the government as literature that is the very best work of British authors across the generations. By the time students have read the 24 selected texts, they will have read over 2 million words.
Assistant Principal of Teaching & Learning, Rachel Bennett says 'We are delighted with the success of the reading programme to date. Students feel very proud that they have now read classic texts by such brilliant writers as George Orwell and Charles Dickens. Students have also expressed how proud they feel of their tutors for stepping outside their own comfort zone by reading aloud to their tutees. The reading programme will ensure that our students experience over 5000 minutes of quality literature every school year, how amazing is that!'