Bourne Academy Makes PPE Clips for Key Workers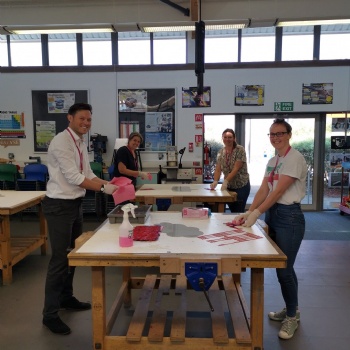 The Bourne Academy is proud to announce that its staff have been using their time and resources to help NHS and front-line care workers.
The Bourne Academy responded to an online call to make clips for the NHS workers to take the stress off the back of the ear from face masks which are having to be worn at all times in medical and care environments – the clips hold the elastic off the back of the ear to stop rubbing.
These clips were laser cut from sheet polymer in the Academy's Engineering classrooms, and have been welcomed by key workers from our local NHS Trust.
Mike Dunn, Director of Engineering at The Bourne Academy says "The team at the Bourne Academy have been delighted to help those on the front line who are struggling with PPE. The tension release band was requested by a local NHS trust and we've posted out 300 in the past week. It's been a team effort and a small token of thanks to front line key workers working incredibly difficult shifts."
So far, staff from The Bourne Academy have delivered these clips to local care homes and a team of community midwives.