The Bourne Academy Success A-Level & Vocational Results 2020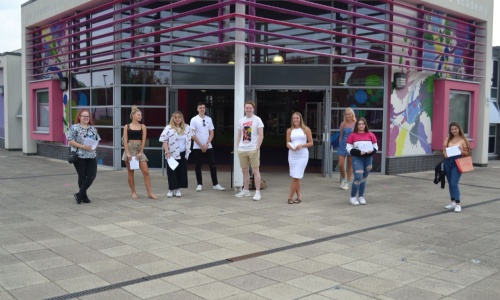 The Bourne Academy, an all ability state-funded secondary Academy sponsored by Canford School, is delighted with another set of highly positive Sixth Form results and onward destinations data: 21% of overall students have gained a place Russell Group Universities and 18% of students are going on to study medical careers, the highest ever number going into medicine.
This year has been an unusual and challenging year for students in Year 13, where due to Covid-19, learning time was lost and grades have been assessed differently. Whilst some of our students have had grades moderated, we are delighted that this has not affected their onward journeys, whatever that may be.
Mark Avoth, Principal, said 'This has been an unbelievably tough year for our Year 13s – they have had so much to endure during the global pandemic and we just want to say how extremely proud we are of their grit and resilience. They have proved themselves to be mature, self-motivated individuals who have worked tirelessly before and throughout lockdown, to ensure the best possible future outcomes for themselves. This was not the final year of school that they were promised, but they should be incredibly proud of everything they have achieved. My enormous thanks goes also to our great body of committed staff and parents too.'
Mr Dean Taafe, Head of Sixth Form, said 'I am thrilled that all of our Year 13 students, who applied to university, have secured an offer at their first choice university or chosen course of study. Their success is testament to all their hard work and that of staff who have supported them over the past two years. I feel very proud of this young yet successful 6th Form. We are going from 'strength to strength'.
For more information about The Bourne Academy, anyone is welcome to attend the Academy's annual Virtual Open Evening on Wednesday 30 September 2020, 6.00pm-8.00pm. Alternatively, anyone may attend the specific 6th Form Virtual Open Evening on Wednesday 14 October 2020, 6.00-8.00pm. Morning Tours may be available in October – more information to follow. Please enquire at the Academy for further details.