Bourne Academy Students Win National Enterprise Challenge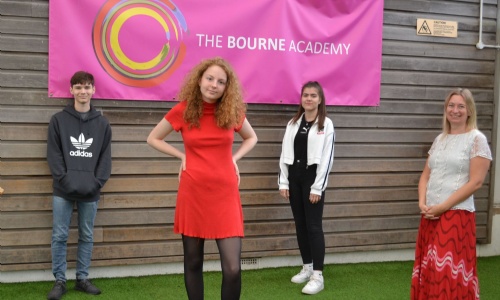 A small group of students from The Bourne Academy are delighted to have been declared the winners of this year's National Enterprise Challenge announced yesterday.
Over 20,000 students took part in this year's National Enterprise Challenge across the UK. The Key Stage 4 brief was to design a new 'carb killer chocolate bar' for Grenade Power Bars. The Bourne Academy's team Applezilla, Amy Lewis, Toby Durham and Lina Salata, won the overall Key Stage 4 competition with their apple crumble flavoured bar design.
The judges at Grenade and The National Enterprise Challenge were blown away by the standard of Team Applezilla's pitch and the enterprise skills demonstrated by the whole team during the facilitation day back in March. The Applezilla Bar will be launched on the global market in autumn 2020. When it is safe to do so, the team will also get the exciting opportunity to visit Google in London and the Grenade Headquarters.
Head of Careers and Aspirations Vicky Woodings said "I could not be prouder of the resilience, creativity and hard work demonstrated by every member of the team. Despite the challenges of remote working these students have created a strong brand and an engaging and memorable advert." Alan Barratt, the company founder and CEO of Grenade praised the quality and professionalism of their entry