The Bourne Academy Celebrates Ten Year Anniversary & Ten Years of Successful Partnership with Canford School 2010-2020
Throughout 2020-2021 The Bourne Academy is delighted to be celebrating ten years of success since its foundation in 2010. Together with Canford School, its sponsor, the Academy is planning a year of special events and celebrations to mark the milestone.
Although there has been a school on the site for almost 100 years, in 2007, after several years of poor examination results and falling numbers at Kings High School, the Department for Education assessed a number of schools looking for a sponsor. Finally, in 2008, Canford School was approached by the DfE and agreed to sponsor the school by offering time, expertise and support without any financial input.
Renamed 'The Bourne Academy' the school opened its doors to students in September 2010 with many new staff, a new principal and a distinctive black, white and pink uniform, as voted for by the students.
A £10million investment programme then followed, which included major building and refurbishment along with exciting 21st century state-of-the-art IT. The building works were completed in September 2013 and coincided with the opening of a new 6th Form and 6th Form block, enabling The Bourne Academy to continue to offer a quality education for boys and girls up to the age of 18 years old.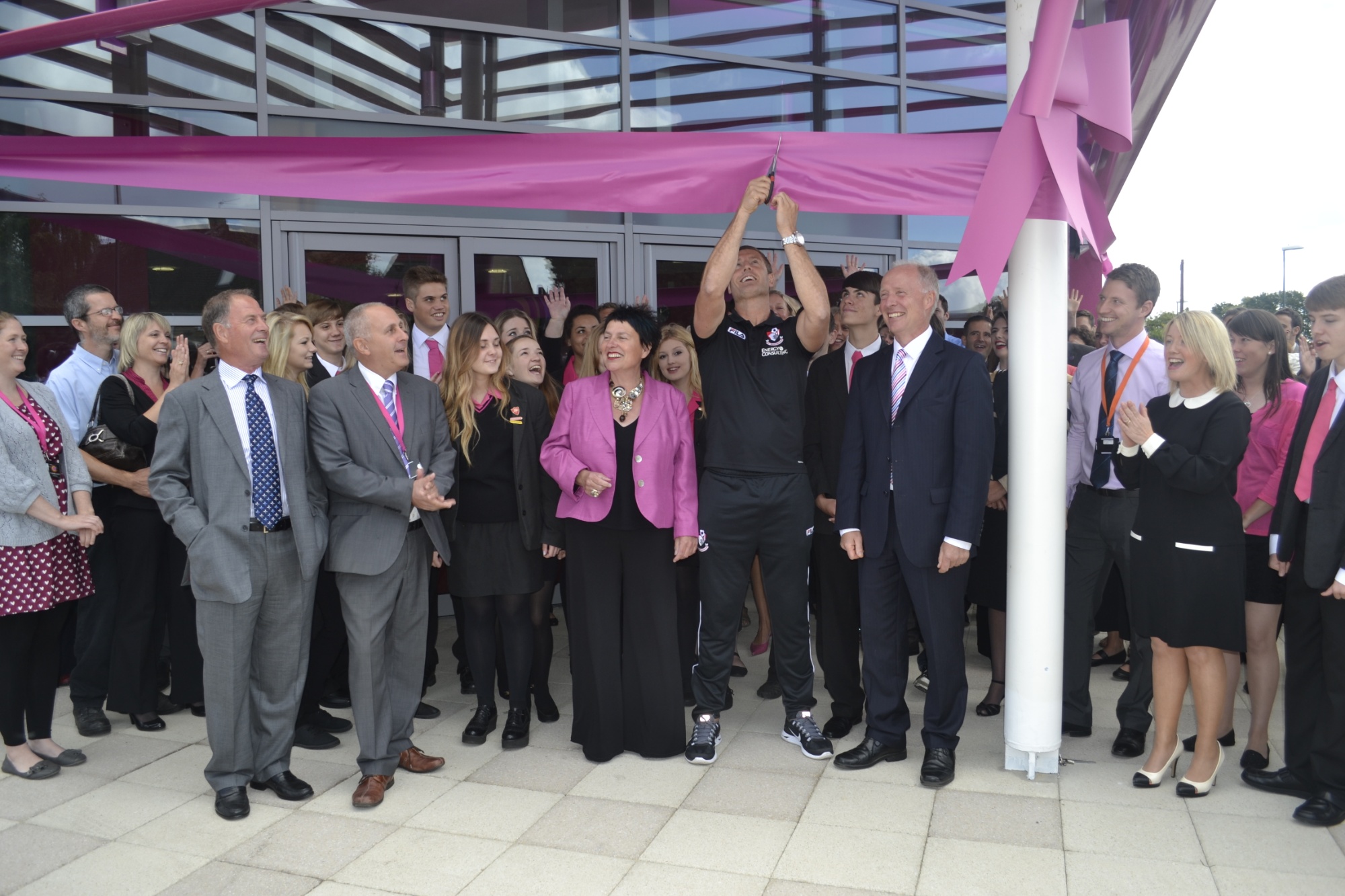 A key part of the vision for the new Academy was that it would be at the heart of the community of East Howe, offering local families an excellent education, new opportunities and facilities available to all. Raising pupils' expectations, building their self-confidence and teaching them appropriate skills that allow them to build a successful career and contribute to society were, and remain, central to The Bourne Academy's aims.
Canford's belief that good education depends crucially on the relationships between staff, pupils, parents and key stakeholders was another core part of the vision. Mutual support, pride, ambition, trust and high expectations combine to allow impressive academic achievements against a background of respect. The Bourne Academy's vision is articulated clearly through the mnemonic, ASPIRE, to develop citizens who are ambitious, self-confident, physically literate, independent learners, resilient and emotionally literate.
Mark Avoth, Principal, says "I do not believe the Canford sponsorship of our Academy would have been so successful had we not been allowed to develop the relationship in such a positive and collaborative way. We have achieved a great deal as a result of the ability to create our own way of working together, helping to improve the outcomes of students at both schools and overcoming problems without the constraints of too much 'red tape'."
The definition of success takes many forms. Examination outcomes and Ofsted reports are obviously important and we have been successful in both. Since the Academy opened, exam results and student outcomes have improved dramatically. After five years of A Level results the Academy is proud, in 2020, to have had 20% of A Level students progress to Russell Group Universities and 18% of A Level students embark on medical degrees.
However, success is so much more than a measurement of results and reports. Mr Avoth goes on to say, "How do you measure the impact of some of our most vulnerable students designing and building a Greenpower car that ranked 27th in the international finals at Silverstone (a project first held and supported by Canford initially), or a Careers programme that has been Nationally recognised as fulfilling all 8 Gatsby benchmarks, or an opportunity for ALL our Sixth Form students to have access to an individual Business Mentor (Bourne Ambassador), or a Reading Programme that has been purposely constructed so students are exposed to a range of reading sources that offer a high value of cultural capital, a necessity in a school that serves a disadvantaged community. It allows them to see how literature has developed and evolved in line with political and social change within British and global society and exposes them to classic and contemporary texts. In addition, we hope that more of our students develop a life-long love of reading.
So, whilst awards are visible measures of success, ultimately our shared aim with Canford School is for every individual student to have belief in, and a positive vision for, themselves, their future and their school."