The Bourne Academy completes 6040 Mile Virtual Journey to Partner School in Kenya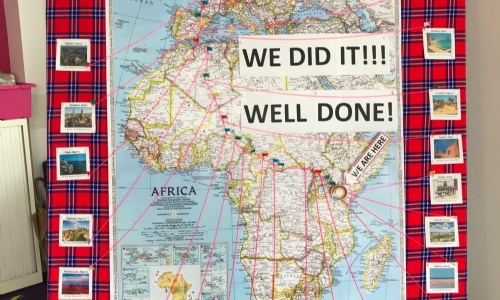 The Bourne Academy is delighted to have completed a 6040 mile virtual journey to partner, Osiligi Obaya Primary School in Kenya. Staff and Students have travelled this distance by walking, running, cycling, inline skating, rowing, playing football and Pokémon go, swimming and skateboarding.
In light of National Lockdown and worldwide travel restrictions, The Bourne Academy launched a virtual challenge to make the journey from Bournemouth to its partner school in Kenya. The aim was for staff and students, to clock up the 6040 mileage from Hadow Road, Bournemouth to the Osiligi Obaya School in Kenya, using any mode of sustainable transport they wish.
Those taking part have not only completed the virtual journey, taking them through 12 countries in Europe and Africa, but they have also travelled so far over the target mileage that they could have also made it to South Africa…
'Osiligi' means hope, and the hope for this project is to bring us all a little closer together in a time when the world feels very disconnected due to the COVID-19 pandemic. Mark Avoth, Principal, commented: 'We are so proud of everyone who has taken part in the virtual challenge. This journey has been so inspiring to our community and encouraged our students to get out and exercise during the second lockdown. The project has also kept our partner school, Osiligi Obaya, in the forefront of our minds during the pandemic and we are extremely grateful to everyone who has contributed to this massive group effort'.