BOURNEMOUTH'S BOURNE ACADEMY WINS PRESTIGIOUS SCHOOL OF THE YEAR AWARD AT THE 2021 NATIONAL BTEC AWARDS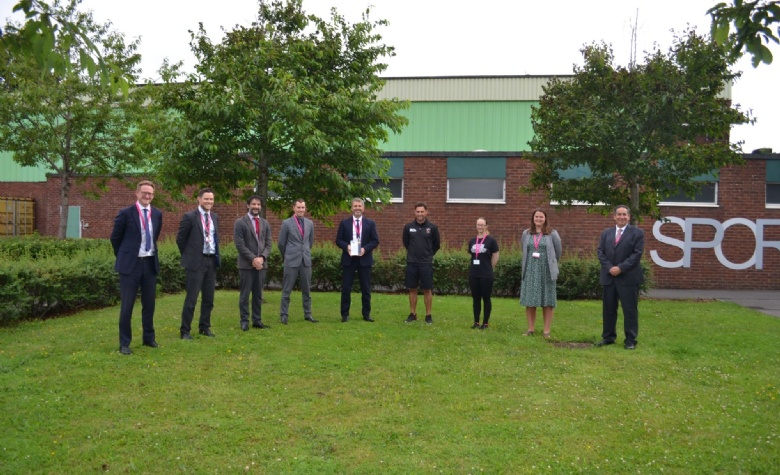 The exceptional achievements of The Bourne Academy were celebrated today as they were awarded the prestigious BTEC Award for School of the Year 2021.
With specialisms in Engineering & Design, the School of the Year 2021 encourages creativity across all aspects of learning - and the pandemic hasn't stopped that creativity from flourishing. This dedicated teaching team and learners streamed six lockdown concerts as well as a two-hour Performing Arts Awards evening, a Christmas concert and a live drama performance in 2020 to give students the opportunities to perform in a meaningful way to an audience. The Academy also runs a yearly apprenticeship application day for students interested in a career in Engineering. They can apply for roles, take mock telephone interviews and work with a careers advisor to ensure they get the Engineering work experience outside of the academy to support them in both their qualification and BTEC inspired career. Media and Sporting creativity have also flourished during this time. Quality of learning and teaching is at the very heart of this school's success. Their talented and committed staff haven't waivered from this mission despite the huge challenges of the past 12 months.
David Mastrocola – Head of Visual & Performing Arts said: "We are so pleased that the opportunities and work that students have done over the past year have been recognised by Pearson in winning this award. In normal circumstances, The Performing Arts Department would hold over 15 events a year which are very popular and well attended by parents, staff and the local community. In the past year the students and staff have managed to place many of those events online, which have been streamed to the local community to enjoy. The vocational aspect of the BTEC Performing Arts courses mean that the students are well prepared for their futures. The past year has presented a new set of challenges which staff and students have overcome and have led to a whole new skill set being developed. We are extremally proud".
The Bourne Academy's hard work and dedication was celebrated at the 11th anniversary of Pearson's annual BTEC Awards hosted online on 7th July 2021.
The ceremony was co-hosted by presenter of the United View, YouTube influencer and BTEC alumnus and ambassador, Flex and sports presenter and events host, Gemma Care. 19 category award winners were celebrated from around the UK and internationally in subjects such as Health and Social Care, Performing Arts, Engineering, IT, Business and Sport.
BTEC alumni including Academy Award-winning producer and Head of Film and Animation at ScreenSkills Gareth Ellis-Unwin, entrepreneur and founder of SB.TV Jamal Edwards MBE, and award-winning actress Lucy Fallon were among those also presenting awards.
Cindy Rampersaud Senior Vice President for BTEC and Apprenticeships at Pearson, said: "2021 has been another extraordinary year for our BTEC learners, tutors, teachers, colleges and schools and I am delighted that today we are able to come together and celebrate this year's winners - and all of the individuals who will be awarded a BTEC qualification this year. The hard work and commitment demonstrated by our award winners, all of whom have achieved great things during a time of unprecedented disruption, is extraordinary and I am proud we are able to celebrate their achievements."
During the ceremony hosted on YouTube, Pearson also announced the winners of the 2021 Showstopper Challenge, a competition that gives BTEC performers the opportunity to showcase their talents. The audience were treated to performances from:
Bishop Challoner Catholic College
Jackie Palmer Academy
Clevedon School
D16 Performing Arts College
Nearly a million learners across the globe completed BTEC courses over the past year; the career-focused qualifications are a vital route for those pursuing careers in sectors such as IT, business, the creative industries, healthcare, engineering, construction and future industries. This is especially important in the current context as the UK responds to the global pandemic and looks to kickstart projects to speed economic recovery.
Jonathan Ledger, Skills Specialist at The Department for International Trade commented:
"I must emphasise the importance of BTEC as a career-focused type of qualification and that for me is key. This is all about delivering the right skills to the right people at the right time in the right way and BTEC qualifications do just that. For me, BTEC qualifications are a game changer. They change lives and they help people improve and contribute to business and society in a big way.
A huge congratulations once again to all the winners and all of the nominees."