The Bourne Academy Success A-Level & Vocational Results 2021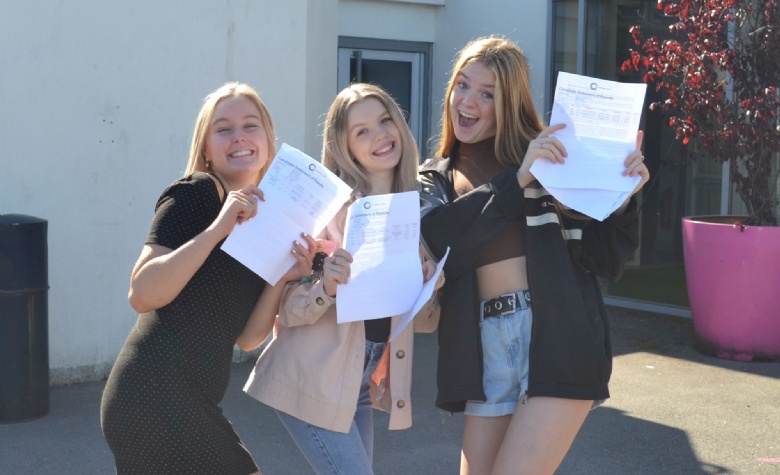 The Bourne Academy, an all ability state-funded secondary Academy sponsored by Canford School, is delighted with how our students have adapted to the challenges of this year. Their perseverance and hard work should be commended and we congratulate them on their results and their commitment to their onward destinations: 36% of students going to University have gained a place at a Russell Group Institution.
Particular mention should go to:
Hayley Mann who achieved 3 A*'s and an A in her EPQ. She has secured a place at the University of Southampton to study Philosophy and Politics
Haydn Meaden who achieved 3 A*'s. He has secured a place at the University of Southampton to study Law
Melanie Casagrande Rodrigues Jorge who achieved 3 A*'s. She has secured a place at the University of Plymouth to study Biomedical Science
Finn Bolton who was successful in gaining the highly sought after Cobham Higher Apprenticeship.
Mark Avoth, Principal, said 'This has been an unbelievably tough year for our Year 13's – they have had so much to endure during the pandemic and we just want to say how extremely proud we are of them. They have proved themselves to be mature, self-motivated individuals who have worked tirelessly to ensure the best possible future outcomes for themselves. Our teachers also deserve huge credit for the enormous amount of work they have put into implementing another new system. My thanks to them for ensuring that our students have the best and fairest outcomes this year.'
Mr Dean Taafe, Head of Sixth Form, said 'I don't think anyone could argue that the experience of the 2021 cohort has been very different from many that have gone before. The pandemic has provided a unique set of educational challenges that I wholeheartedly believe our students have risen to, showing a level of maturity, independence and reliance that will stand them in good stead for the future. They have developed new skills enabling them to adapt to a constantly evolving challenge and I am extremely proud of them all.'
For more information about The Bourne Academy, anyone is welcome to attend the Academy's annual Open Evening on Wednesday 29 September 2021, 6.00pm-8.00pm. Morning Tours may be available in October – more information to follow. Please enquire at the Academy for further details.