Bourne Academy Student Appointed Head of Dorset Police Cadets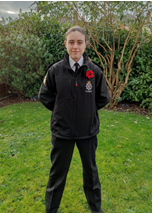 The Bourne Academy's student Megan Bushnell has been appointed the role of Head Cadet for Dorset's first Police Cadet group. Through a tough appointment process Megan was selected to create positive change in the community and lead the young cadets into success.
Inspector Alyssa Forrest shares her thoughts on this fantastic opportunity, saying: "This is a great opportunity and achievement for Cadet Megan, she should be very proud". Since being appointed, Megan has represented the Dorset Police Cadets at a law service in Dorchester organised by the High Sheriff. Also, Megan proudly stood alongside the Police Crime Commissioner and Chief Constable at the Remembrance Day service in Bournemouth, paying their respects for the fallen troops.
We are very proud to have so much incredibly diverse talent at the Academy and we look forward to seeing what is in store for Megan and her fellow cadets as she upholds good citizenship and inflicts positive change into the local community.
Dorset's first Volunteer Police Cadet Unit was set up at The Bourne Academy by Dorset Police and the Office of the Police and Crime Commissioner (OPCC) for Dorset in the summer of 2019.
The Volunteer Police Cadet Scheme is designed to build bridges between young people, the community and the police. The VPC scheme is about taking a mixture of young people aged 13-18 and helping them make a difference for themselves and their community.
Cadets learn about the law, police procedures and specialist police units, and they develop some of the skills that police officers need such as communication, interpersonal skills and team working. They are also taught about community issues and local policing priorities.
Dorset Police have two Cadet units which are based in Bournemouth and we are very proud of the young people who are committed to serving their community through volunteering their time and who act as fantastic ambassadors for Dorset Police.