Bourne Academy Students Hosted by Goldman Sachs at Three-Day Careers Residential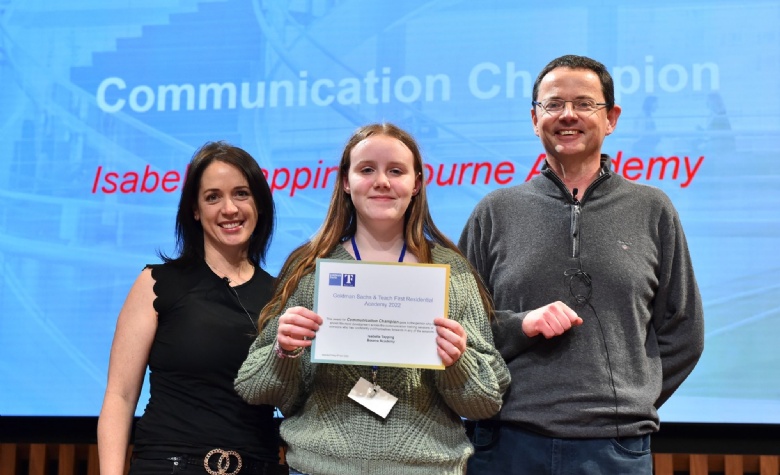 During the Easter holidays, students at The Bourne Academy attended a three-day Careers Residential hosted by Goldman Sachs and education charity Teach First aimed at improving their careers knowledge and skills needed to take advantage of future opportunities after school.
At their offices in the City of London, Goldman Sachs hosted 100 pupils from ten schools serving disadvantaged communities across the country; all these schools work closely with Teach First – the education charity helping schools facing the biggest challenges to tackle educational inequality. The Residential was organised by Goldman Sachs as part of their ongoing commitment to improving social mobility with young people given careers support they would otherwise struggle to access.
Students spent the week learning about careers in the City, boosting their employability skills, and networking with employees from organisations such as The Economist and Financial Times, as well as Goldman Sachs itself. Research has demonstrated the importance of engaging with businesses for young people – FACT: just four meaningful interactions with an employer reduces a child's chances of becoming NEET (not in education, employment, or training) after school by 86%.[1]
Isabella Tapping of The Bourne Academy was also recognised during the week by Goldman Sachs employees, winning the Communication Champion Award in the closing ceremony of the Residential.
Students from The Bourne Academy were also recognised during the week for their communication skills, being awarded the winning prize by a panel of judges for the debate exercise, having been commended for their passionate and persuasive arguments.
The Residential is an important part of The Bourne Academy's careers education programme, ensuring it's studenst have the same opportunities to succeed after school as wealthier pupils. A survey of pupils in attendance found 88% believed they were better equipped for their future careers and 72% felt their understanding of careers available in the City had increased.
Principal at The Bourne Academy, Mr Mark Avoth:
"We were absolutely thrilled to be selected for this opportunity with Goldman Sachs and Teach First. Many of our students have never had the opportunity to travel to London before, and this was an unforgettable trip for them.
As a school we're committed to providing a quality careers education for our pupils, and opportunities like this are vital for inspiring our young people about what their future pathway could look like. Our students have come away feeling that they can achieve anything they set their mind to."
Russell Hobby, CEO of Teach First:
"The future world of work can be daunting for many young people but, for those from disadvantaged backgrounds, the barriers to a successful career can feel insurmountable. We're working with partner businesses and schools serving disadvantaged communities to give more young people the chance to unlock their full potential after school. We're so grateful to our long-standing partner Goldman Sachs for hosting a varied and inspirational schedule of events at the Residential, giving pupils from ten Teach First partner schools an inside look into the sector – inspiring them about what they could go on to achieve and giving them the skills and knowledge that they need to turn those inspirations into reality. I was honoured to join the closing ceremony and hear directly from the pupils who had clearly gained so much from the experience. We're proud to work with businesses like Goldman Sachs to have an impact where it's needed most."
Janine Glasenberg, Managing Director at Goldman Sachs:
"As a proud and long standing partner of Teach First, Goldman Sachs were delighted to work with Teach First to deliver the Goldman Sachs Careers Residential. As a firm, we are incredibly focused on upskilling, inspiring and informing the next generation of talent. We strongly believe that talent and determination should determine one's future, not the circumstances we are born into. Unfortunately, we know this is not always the case. We recognise that not all students have equal access to education, development opportunities, networks or resources, and this can often have significant impact on their future. We want to level the playing field here - our focus is developing all individual talent, no matter their background.
"The Teach First Residential was a uniquely designed a three day careers residential with the aim of inspiring and upskilling students from lower socio-economic backgrounds across the UK, who may not typically have access to these opportunities or a broader network. We worked closely with Teach First over 18 months to design and deliver content that showcased the variety of career opportunities in the city, whilst building students confidence and skills.
"The energy from both the students and teachers throughout the Residential was infectious and there was a real buzz in our London office. The students truly gave it their all and we are so incredibly proud of every participant who pushed themselves outside their comfort zones, learnt a new skill and had some fun along the way!"