Dylan Hulbert, Bourne Academy's Scholars, Secures 3rd Prize in Prestigious Oxford University Creative Writing Competition 2023​​​​​​​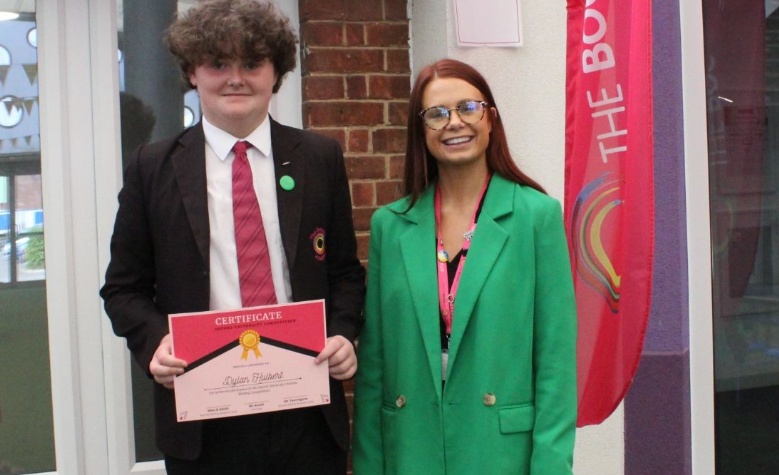 The Bourne Academy is thrilled to announce that Dylan Hulbert, an exceptionally talented Year 8 student, and a Bourne Scholar has emerged as the recipient of the esteemed 3rd prize in the renowned Oxford University Creative Writing Competition 2023. Dylan's exceptional literary skills and imaginative piece caught the attention and admiration of the judging panel.
Comprised of esteemed academics and staff from the institutions of the Manar al-Athar photo archive, Oxford Centre for Byzantine Research, and Classics Faculty, the judging panel was captivated by Dylan's extraordinary work. His ability to craft compelling narratives and his unique writing style set him apart from his peers, earning him the well-deserved recognition.
The achievement of securing 3rd prize in his age category in this national competition underscores Dylan's exceptional talent and dedication to the art of writing. His exceptional literary abilities, honed through a combination of creativity and hard work, have brought him this notable distinction. In recognition of his achievement, Dylan has been awarded a prize of £50, further affirming the value of his exceptional talent.
The Oxford University Creative Writing Competition 2023 serves as a platform to showcase the creativity of young writers and provides them with an opportunity to have their work evaluated by distinguished experts.
The Bourne Academy takes immense pride in Dylan Hulbert's accomplishment in the Oxford University Creative Writing Competition 2023. His achievement serves as an inspiration to fellow students and exemplifies the Academy's commitment to nurturing and supporting young talent. The Bourne Academy extends its warmest congratulations to Dylan and wishes him continued success in his future literary.