The Bourne Academy Success A-Level & Vocational Results 2023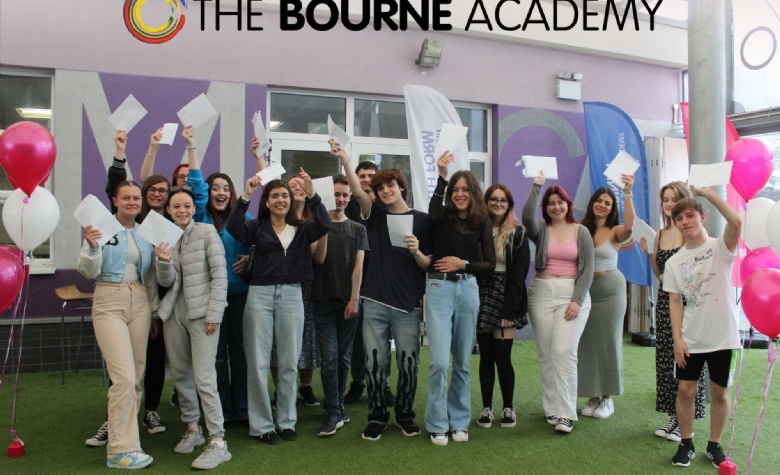 The Bourne Academy is delighted with how its students have adapted to the challenges presented to them over the lead up to their examinations. Their perseverance and hard work should be commended and they are to be congratulate on their results and their commitment to their onward destinations.
Particular mention should go to a few students who have achieved places on certain courses or at certain universities for the first time in the history of The Bourne Academy's 6th Form:
Ryan Cowan who is the Academy's first student to have secured a place at The Royal Veterinary College, London
Matyas Bana who is the Academy's first student to gain a place at Loughborough University, studying Aeronautical Engineering.
The following students should also be highly commended:
Haydon Wansbrough achieved an A* in Biology, an A in Physics and a B in Product Design. He has secured a place at the University of Bristol to study Biology
Aimee Booker achieved an A in Mathematics and two B's in Physics and Art & Design. She has secured a place at the University of Portsmouth to study Architecture
Isla Holmes-McGeachy achieved two A's in Chemistry and in her EPQ and two B grades in Biology and History. She has secured a place at Kings College London to study Classics & the Ancient World
Sophie Robson achieved a Distinction* in Music, an A in English Literature and B in History. She has gained a place at Goldsmiths University, London to study Music.
Mark Avoth, Principal, said "It is important to bear in mind that our Year 13 students have had a very disrupted learning journey. Therefore, we just want to say how extremely proud we are of them all. They have proved themselves to be mature, self-motivated individuals who have worked tirelessly to ensure the best possible future outcomes for themselves. Congratulations to all the students who have been successful in progressing to the next stage of their life journey, in higher education or work-based training. Thank you also to their teachers have worked very hard to support them during this challenging time."
Mr Dean Taafe, Head of Sixth Form, said 'I am extremely proud of our Year 13 cohort. They have achieved some excellent results and should be extremely proud of their achievements, especially given the circumstances leading up to them starting their level 3 qualifications. A quintessential part of education is to provide students with the platform to go into the real world and contribute to society. Our students have worked extremely hard under the guidance of our teachers, and that journey can now continue with many of our students going on to study fantastic degrees, apprenticeships and commence employment. It has been a pleasure helping them and we wish them all the best on this exciting journey.
For more information about The Bourne Academy, anyone is welcome to attend the Academy's annual Open Evening on Wednesday 20 September 2023, 6.00pm-8.00pm and/or the Academy's 6th Form Open evening on Wednesday 18 October 5.30pm to 6.30pm. Morning Tours may be available in October – more information to follow. Please enquire at the Academy for further details.