The Bourne Academy's Old Grey Guitarist to perform on America's Got Talent Live Shows next week.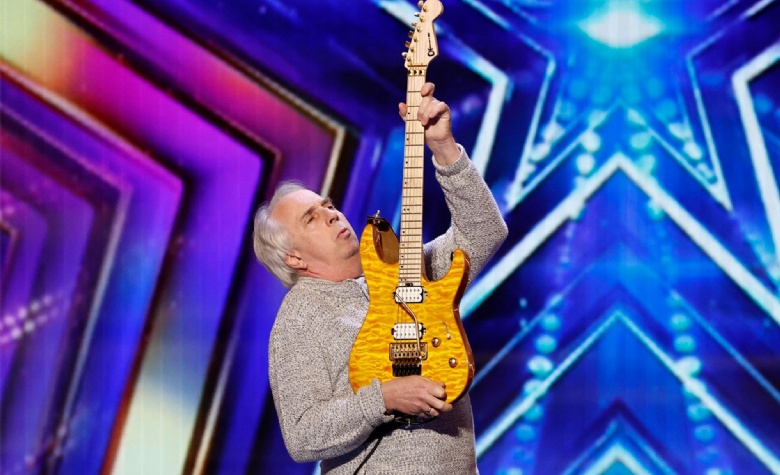 The Bourne Academy is thrilled to announce that their esteemed guitar teacher, John Wines, better known as the 'Old Grey Guitarist,' has advanced to the live shows of the hit television competition, America's Got Talent. John's captivating audition performance, where he skillfully played Queen's iconic anthem, "We Will Rock You," left both judges and audiences in awe, securing him a unanimous four yeses from the esteemed panel.
The unforgettable audition episode, which aired in June, showcased John Wines's remarkable talent. leaving an indelible mark on everyone who witnessed his electrifying performance. His rendition of "We Will Rock You" resonated deeply with both the judges and spectators, prompting calls for an encore that reverberated throughout the auditorium. Even Simon Cowell, renowned for his discerning judgment and critical nature, expressed his astonishment at John's transformation from a reserved individual into a spellbinding performer.
With this triumphant audition, John Wines now embarks on the next phase of his journey in the competition, poised to grace the stage of America's Got Talent's live shows on Wednesday 23 August, between 1am and 3am UK time (Tuesday evening USA time). The anticipation for his upcoming performances is palpable, as fans eagerly await the chance to witness his musical prowess and captivating energy on the live stage.
John has been an inspiration to countless students, sharing his deep passion for the guitar at The Bourne Academy in Dorset. Beyond his role at the Academy, he also imparts his musical wisdom through private lessons, enriching the lives of aspiring guitarists within the community. John's commitment to nurturing musical talent and fostering a love for the instrument has solidified his place as a respected figure in the local music scene.
John Wines's journey took an unforeseen turn when his musical content went viral on popular social media platforms such as TikTok and Instagram. His extraordinary talent has collected him a devoted following of 1.3 million fans on TikTok, amassing an astounding 13.2 million likes. This digital acclaim further attests to his exceptional musical abilities and magnetic presence.
The Bourne Academy takes immense pride in John Wines's success as he ventures into the live shows of America's Got Talent. His dedication, talent, and ability to connect with audiences through his music exemplify the spirit of artistic expression that the academy values and fosters. John Wines, the new 'Bourne' rockstar, is set to shine even brighter on the grand stage of America's Got Talent.