Maasai Warriors visit Academy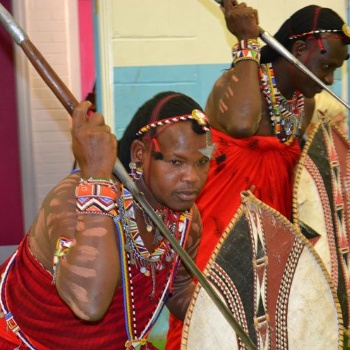 Maasai Warriors returned to the Academy and gave an exciting and moving performance of song and dance to staff and students.
They last visited in 2011 and have been working in close association with a small UK charity, Osiligi Charity Project, to support infrastructural improvements in their local community. The results have been spectacular and since its conception, the Osiligi Obaya Academy for primary pupils was opened. Although education in Kenya is compulsory, it is not free and many state schools have extra charges that are beyond the poor Maasai. This results in many Maasai children not attending school and therefore provides an education to children who would not otherwise go to school.
On their last visit, the Academy presented the Maasai troop with a sample of the Academy pink and black uniform and is now the uniform of the young Maasai students. The school is unusual in that it has excellent teachers, electricity, water, a kitchen, books, 18 computers, broadband and many teaching aids. All items we take for granted in the West and sadly lacking in most Kenyan schools.
During their performance, Academy students and staff joined the Maasai Warriors in their famous jumping techniques and watched a moving performance of Kenyan dance and song. Later the tribe joined students in a lunch of fish and chips and sold their arts and crafts.