A F C Bournemouth Literacy Programme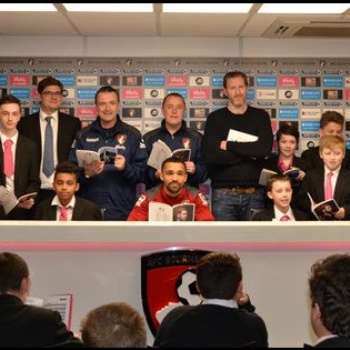 The Bourne Academy is always looking for innovative ways to ensure students succeed. Students have been offered a fantastic opportunity to take part in a literacy programme in association with AFC Bournemouth.
With their recent promotion to the Premiership, AFC Bournemouth will be involved in a national scheme, Premier League Reading Stars, created by the National Literacy Trust and they have chosen The Bourne Academy, the only school in the area, to take part in the scheme.
Our link footballer will be Callum Wilson (AFC Bournemouth Striker) for the duration of the course and throughout the ten weeks, selected students will work on their literacy and reading skills as well as their motivation to work on these key areas of learning. Students will be required to complete a Log Book based on the game, which will encourage and inspire writing, reading and research.
Miss Lovett, Literacy Coordinator for the English department said "we are very excited to be given this fantastic opportunity for our students. With the highly supportive English team working alongside the specially trained AFC Bournemouth team, our students should make amazing progress throughout the ten weeks".
Once all sessions are completed, the students will have the opportunity to visit the Vitality Stadium for a tour.