Duke of Edinburgh Gold Practice Expedition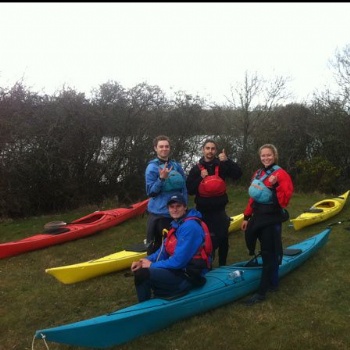 Over the Easter break, several students and two members of staff planned to circumnavigate the Isle of Wight in Sea Kayaks over three days.
Unfortunately, due to poor weather and conditions, their plans had to change. The group set off from Newtown Creek and made good time to and around the Needles. They managed to paddle into Freshwater Bay - 33 km completed on day one.
Due to bad weather, day two and three had to be cancelled. The group originally set off from Freshwater but quickly turned back due to overhead swell and strong winds further out at sea. Having checked the forecast for Sunday, it was the right call to make. Sadly, we headed back to camp, packed up and caught the ferry back to the mainland. However, the group had a great paddle around the Needles, experiencing big seas, wild camping and learning to work together as a team.
Although the group did not fully complete their challenge, it was a really successful expedition and we agreed that the group had received the required amount of training in order to undertake their qualifying expedition in Scotland later in the year.
Well done everyone!