Primary Cricket Festival 2016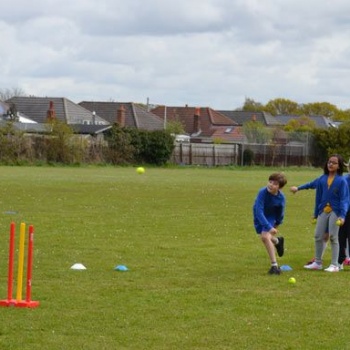 In May, 17 local primary schools were invited to spend a day at the Academy to attend a Primary Cricket Festival organised by Dorset Cricket.
The festival was run by The Bourne Academy Sports Leaders - Year 10 and 12 BTEC Sport Students.
It was a great day of sport. 38 leaders and 150 primary students all taking part in skills and games throughout the day. Dorset Cricket provided the equipment of wickets, bats and balls and the coaches organised the activities and format of the day. The Sports Leaders put the primary students through a range of skills and in the afternoon they played matches.
Everyone had a great day! A massive thank you to our Leaders who were inspiring all day. They showed all the attributes of sports leaders; polite, set a good example, developed skills, creativity in changing drills to make them more fun and making the whole day really enjoyable for the primary students. Every member of staff from the primary schools spoke very highly of our Student Leaders and the whole sports festival was an incredible success.
We look forward to working with Dorset Cricket in the future.