Queen's representative visits Academy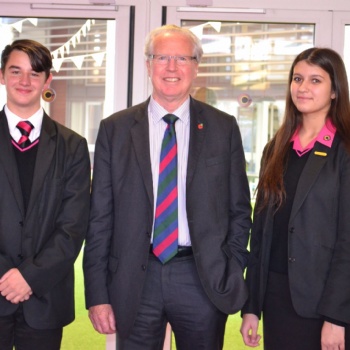 The Bourne Academy was delighted to welcome the Lord Lieutenant Angus Campbell on site together with two senior representatives from the Dorset Community Foundation.
The party was welcomed with refreshments and an informal meeting with the Principal, Mr Avoth and two Bourne Leaders Alex Jenkins and Selina Taghizadeh, before embarking on a tour of the Academy, spending particular time in Sport, Engineering, Performing Arts and Music.
Business Director, Mrs Gobell said "We were thrilled to have the opportunity to show the Academy to Mr Campbell - we are so incredibly proud of our site, students, staff and all that continues to be achieved here. We are extremely grateful to Mr Campbell for giving so generously of his time to endorse out work. To receive such an important visitor is a real boost for us all. It ensures that they continue to aspire and are proud of their Academy."