Academy wins JP Morgan Challenge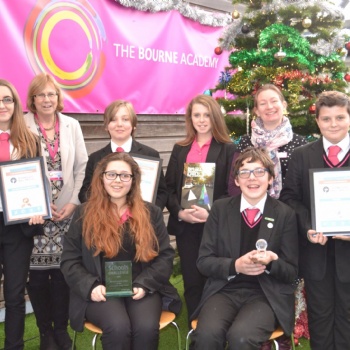 The Bourne Academy recently competed in the JP Morgan Challenge Final at the Olympic Park in London. the Academy's two teams competed against 27 other schools and academies across Bournemouth and London. Their aim was to find sustainable solutions to real world problems.
We are delighted to announce that both Academy teams won their categories; 'Bourne to Last' won the Best Communicate Category and 'Gain and Sustain' won Best Real World Application and were also the overall Sustainable Living winner. Prizes were awarded by a panel of esteemed judges, which included Professor Brian Cox. He also praised the group for their excellent presentation and creativity.
Both Academy teams worked hard, supported by JP Morgan mentors, to design proto-types of their ideas and had to prepare professional pitches not only to the judges but to the 200+ audience. 'Bourne to Last' created an innovative solar powered compost accelerator and 'Gain and Sustain' designed a self-sorting recycling bin.
Mrs Vicky Woodings, Head of Careers, Employability and Enterprise at the Academy said, "A massive thank you to all the JP Morgan organisers and mentors who gave up their own time to support, coach and inspire our students. We couldn't have achieved this success without them and their fabulous input."
"The teams worked so hard giving up their own time to create their prototypes and streamline their ideas. It has been brilliant to see their confidence progress throughout the process and I was so proud to see them pitch on the main stage in front of such a big audience. If they can to that, then I know they will be inspired to go on and achieve great things in the future."