Fab Four release first album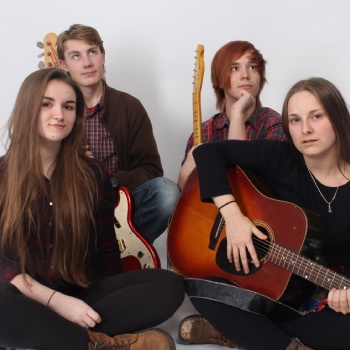 Fans of folk and rock music will be making their way to The Anvil, Bournemouth on 27 January at 7.30pm to see Piegeon Hole, a new young band with a fresh innovative sound. Two other bands will be supporting them; The Indiecisives and the Bonsai Pirates. Pigeon Hole will be playing songs from their debut album 'Down The Pigeon Hole' and will be available on the night or from The Bourne Academy.
The four members of Pigeon Hole; Bonnie-Rae Lambourne (vocals/guitar), Kurt Scott (drums/guitar/vocals), Tristram Apperley (base/violin) and Leah McGuinness (piano/vocals) are all students at The Bourne Academy 6th Form and have been creating music together since they were 14 years old. As well as writing their own songs, they also play a set of songs from the 1960s, 70s and 90s, with their own twist of rock and folk.
The fab four have had various influences but all agree that the one person who stands out, is their own Music Teacher, Mr David Mastrocola (Echo's Teacher of the Year 2016) and his inspiring team. They are so inspired by their teacher, that they have all continued their education at the Academy's 6th Form to study BTEC Music before going on to university.
Students are very fortunate to have the use of the Academy's own recording studio as well as various opportunities to play live concerts to the Academy students at lunchtimes, as well as performing at evening recitals in front of friends, family and the public.
If you don't want to miss seeing three local bands at one gig, tickets are available from The Anvil and can also be bought on the door for £5 each.