Academy shares leadership skills with Canford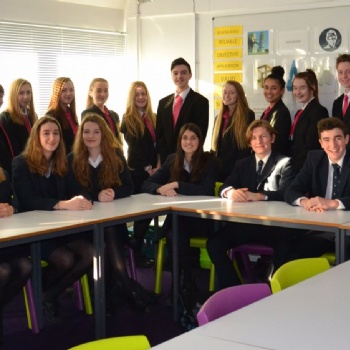 Further evidence of the great collaborative working relationship with Canford, our Sponsor school, came about as senior Canford staff members and nine Year 12 students visited the Year 10 Leadership Academy to learn more about this very effective student body.
Canford staff and students were interested to learn how the Academy's Student Leaders are involved in the processes of appointing new staff. During the meeting, Academy Student Leaders ran guided tours for the Canford visitors and 'mock interviewed' the Canford teachers to demonstrate the role they play as a 'Student Panel' during candidates' interviews. More ideas were shared over refreshments, with students from both schools agreeing that students can offer an important perspective when interviewing hopeful teachers who wish to challenge and inspire them.
Rachel Bennett, the Academy's Director of Teaching and Jonathan Perkins,who runs Student Leadership are looking forward to a reciprocal visit to Canford where prefects will showcase how senior students support younger pupils with homework, helping them to develop their independent study skills.
'The Canford/Bourne Academy relationship continues to flourish, with opportunities for new learning shared at every level', commented Caroline Gobell, Business Director. 'We are delighted to be working together to improve systems and processes wherever possible, in both schools'.