Festival of Drama Celebrated at Academy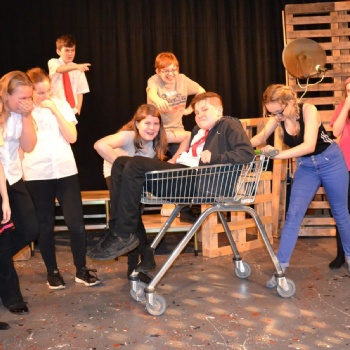 The 'Telling Tales Drama Festival' was created to showcase and celebrate the wealth of acting talent there is at the Academy. Throughout the week long festival, over 500 students watched one of four plays, selected to offer both an exciting challenge to actors but provide entertainment and 'food for thought'.
'Sparkleshark' and 'Grim Tales' provided some highly memorable performances of real quality. An exciting collaboration between the extra curricular ACE clubs and 6th Form music students, who previously worked on the Shakespeare School Festival.
'Tomcat' was produced by 6th Form performing arts students, another thought provoking play, raising significant questions for the future of our society. Year 10 drama students performed their abridged version of 'Romeo and Juliet', taking inspiration from the modern world we live and features romeo as the center of attention of the dance floor.
A host of workshops took place throughout the week from a wide range of practitioners; puppetry, pantomime (behind the scenes), LAMDA (drama) workshops and movement and physicality for actors (yogo). The Arts University Bournemouth, University of Chichester and The Dorset School of Acting also took part, giving lectures and workshops about drama and acting processes.
The whole week finished off with a Shakespeare Workshop with the Brownsea Open Air Theatre who demonstrated how actors and directors prepare to perform. All the students involved had an inspiring week, working alongside professionals within the creative industry, receiving an array of experience and advice.