Academy walks 4 miles for Kenya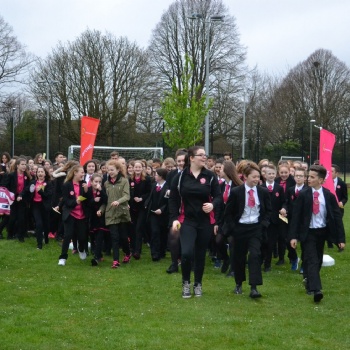 A willing group of KS3 students were successfully challenged to a four mile sponsored walk last week around the school site. The walk was organised to raise money to build a teachers' house at the Academy's partner school - the Osiligi Obaya School in the Maasai, Kenya.
Each walker paid £2 to enter and all completed their 4 mile challenge in good time – the distance was chosen because at the Osiligi Obaya Primary School, pupils as young as five years old have to walk four miles each way, every day, to get to school. They are often hungry, carrying litres of water and their shoes are worn out very quickly.
The Academy was very lucky to have been additionally sponsored by another keen Osiligi Charity supporter in the form of the Rotary Club of Bournemouth North; individuals, and the club itself, contributed £250 towards the walk. Finally, several of the students raised individual sponsorship funds, some in excess of £100 each. So far, the walk has raised over £750 with further funds yet to be received.