A Level Results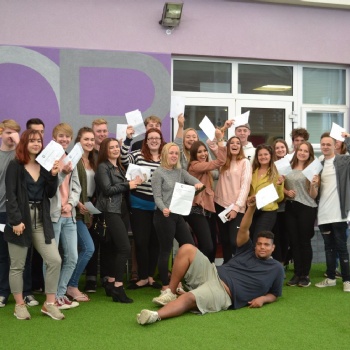 We are delighted to announce, 2017 has achieved the highest ever KS5 results - 33.3% of all grades were A*- B across all subjects and 77.2% of all grades were A* - C across all subjects.
Since the new 6th Form opened in 2013, results have consistently shown 100% of students achieving a grade A*- E each year and this year is no exception. All our students gained a place at their choice of university or college, with one opting for an apprenticeship. A fantastic achievement and is one of the key areas measured by the Government in terms of those in Education, Employment or Training (EET).
Particular congratulations go to the following students:
Tristan Apperley for securing a place at the University of Liverpool to study Music
Harvey Binstead for securing a place at the University of South Wales to study International Wildlife Conservation
Ashley Saunders and Nathan Nolan-Meharg to study Criminology and Leah Christopher to study Law, all at Portsmouth University
Bonne-Rae Lambourne to study Dance and Wiktor Skwarczynski to study Film Production, both at Arts University Bournemouth
Kaine Ellis for securing a higher apprenticeship in Outdoor Adventure Instruction at Land & Wave.
If you want to be a part of this success story, please attend our annual 6th Form Open Evening on Wednesday 11 October 2017, 6.00pm - 8.00pm