DofE Gold Award Presentation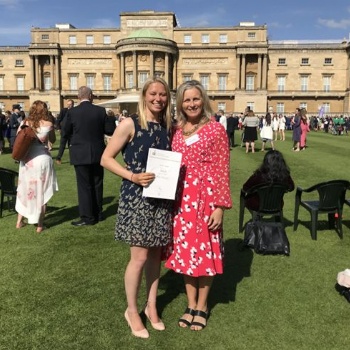 Last week, former Bourne Academy student, Sophie Eaton, attended a presentation at Buckingham Palace where, in the presence of HRH The Countess of Wessex, she received her Duke of Edinburgh's Gold Award from celebrity presenters, Mary Berry and Warwick Davis.
During the Gold Award Presentation, Sophie had a chance to sharing her experiences with HRH The Countess of Wessex, Trustee for The Duke of Edinburgh's Award (DofE). HRH took the opportunity to congratulate former Bourne Academy student on her successes and heard about her DofE journey, which took 12-18 months of hard work and dedication.
Those who achieve a Gold DofE Award must volunteer, learn a new skill, get fit, take part in a week long residential and plan and undertake an expedition in wild country. Widely acknowledged as the world's leading achievement award for young people, DofE programmes enable any young person, aged 14-24, to develop key skills for life and work, such as confidence, commitment and team working.
Vice Principal, Carol Harrison, also attended the presentation as special guest of the South West Region; she was able to see Sophie receive her Gold Award. Mrs Harrison said, "It was with great pride that I attended the Duke of Edinburgh Gold award ceremony at Buckingham Palace. We were invited guests of the Duke of Edinburgh South West Regional office. Sophie's Gold award is a first for a student from The Bourne Academy and represents hard-work and commitment. Her award was presented by HRH The Countess of Wessex and real royalty, Mary Berry! The Academy has a fantastic Physical Education and Outdoor Education department, which, along with a large number of staff, volunteers its time to support students on their Duke of Edinburgh expeditions. This year we have 21 Bronze award participants, 60 Silver and five Gold; we hope they will all be inspired by Sophie's success."
Speaking about her DofE experience, Sophie said, "It was amazing to hear all the other people's stories of what they did for their DofE. There were members of the royal family speaking at the awards ceremony and then guest presenters such as Mary Berry and Warwick Davis who presented the certificates. It was an incredible day! I think DofE is an amazing opportunity and I would encourage anyone to go and do it! We had an awesome time on our expedition, exploring new places from the water - the award looks brilliant on a CV, which is a bonus. It's a great chance to try something new with friends and a good excuse for an adventure!"